You Don't Know Mia Khalifa
Written by Timothy Bella
I'm trying to find Mia Khalifa at Disneyland and it isn't going well. Somewhere amidst the waves of sanitized sensory overload and families in matching mouse ears, the most searched-for adult performer of our age is looking for me. It's her first time at the happiest place on Earth, and she isn't wasting any time. "These are waiting for you," she texts, along with a photo of Mickey Mouse ears. "Look for a knight."
Entering the park on a Monday morning at the tail end of 2017, I don't find the knight. Instead, the knight finds me. Before I know it, Khalifa, 25, sprints my way like a wide receiver on a go route, grinning from ear to ear. She's wearing a Mickey sweater, blue cape and Minnie ears and holding a blue shield and sword, ready to defend every Disney princess from storybook danger.  In a scene where a brass band fills the air with New Orleans jazz and parents chase their sugar-rich kids, heads turn as Khalifa, a five-foot-two busty bombshell with jet-black hair, saunters by. Is that who I think it is? Throughout the day, countless men and women approach her for photos as we wait in lines and snack on churros. Others keep their distance, simply waving. One guy in a Dodgers jersey awkwardly asks his girlfriend to take a photo of him with Khalifa, smiling as if his team had actually defeated the Astros in the 2017 World Series. As someone who has achieved unprecedented fame for appearing in a handful of adult films, this is all part of Khalifa's reality—one where people not only recognize you, but know what you look like naked, even when you're trying to blend in somewhere as antiseptic as the Happiest Place On Earth.
"I have to pick and choose where I go," says Khalifa, which is not her real name. "I get hounded. I get harassed. I'm a lot more careful and private now." Khalifa has been the porn industry's most dominant and recognizable personality for almost half a decade. Since 2014, she's consistently ranked as one of, if not the top name on the world's biggest porn sites, including Pornhub and xHamster, despite having only worked in porn for three months four years ago. Much of the attention she's garnered, as well as the backlash, traces back to a few select scenes: Khalifa, who is Lebanese, once wore a hijab on camera while having sex. The stunt drew criticism around the world, even catching the attention of ISIS, which publicly threatened to behead her in response. The terrorist organization also reportedly hacked her Instagram account and attempted to use Khalifa's personage and controversy to recruit new followers.In the last year, however, having firmly exited porn, the public has been getting to know Khalifa for her real passion: talking and tweeting about sports. Last fall, she landed her first job in sports media as cohost of Complex's web series Out of Bounds, a gig secured in part because of Khalifa's fondness for calling out athletes and teams she doesn't like, or for exposing men who slip into her direct messages. Post-porn, such have become her signature calling cards, helping evolve her public persona from contentious adult film star into legitimate social media personality and sports commentator with an online following of millions.
At Disneyland, she ignores the spurts of catcalls and whispers from passersby. Instead, she buys into the day's fairy tales, purchasing a painting of Princess Jasmine from Aladdin, offering advice to young Jedi in going lightsaber training—"Aim for the groin!"— and taping vignettes of herself walking through the Haunted Mansion or freaking out on the Matterhorn for her Twitch and YouTube channels.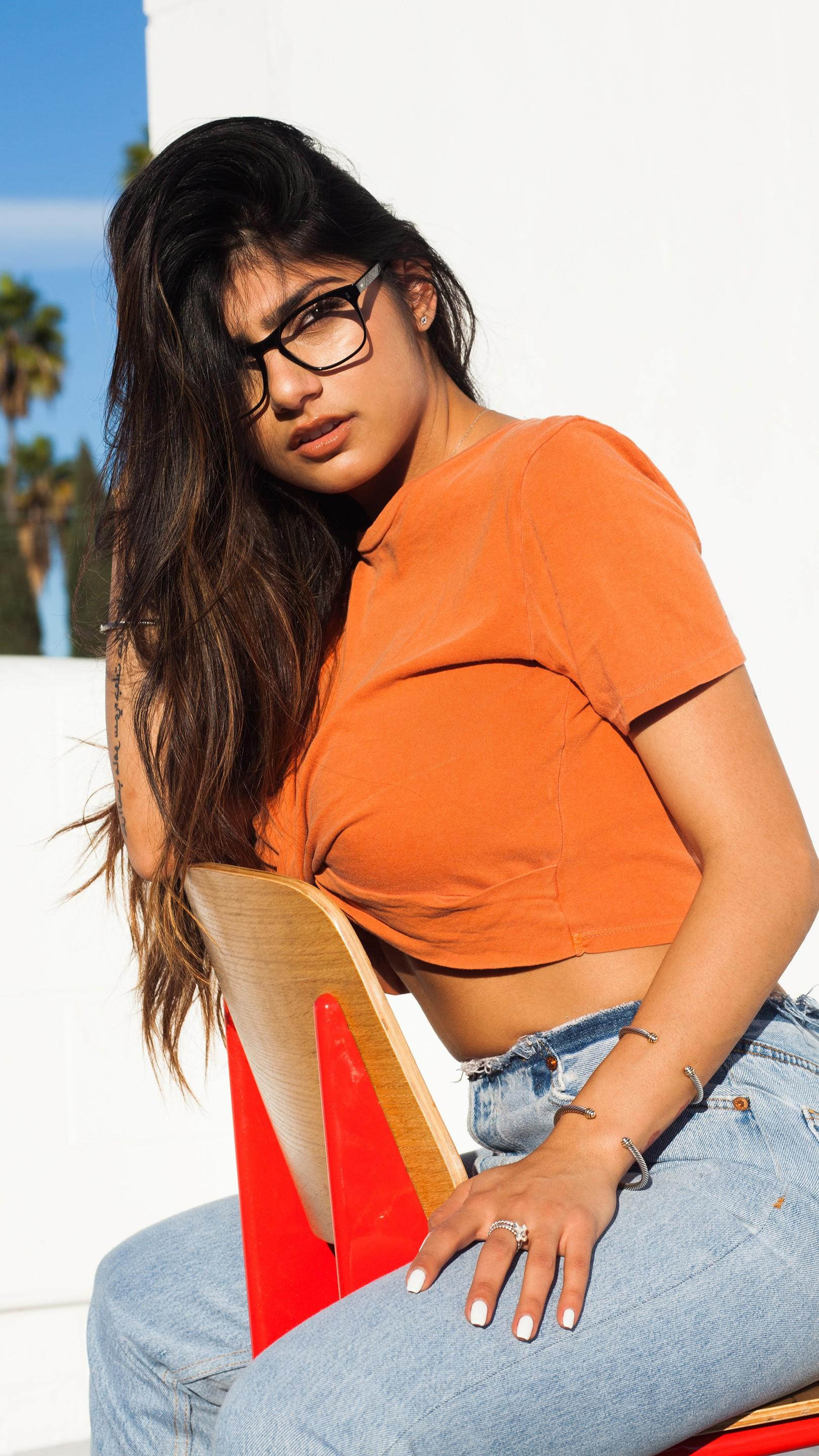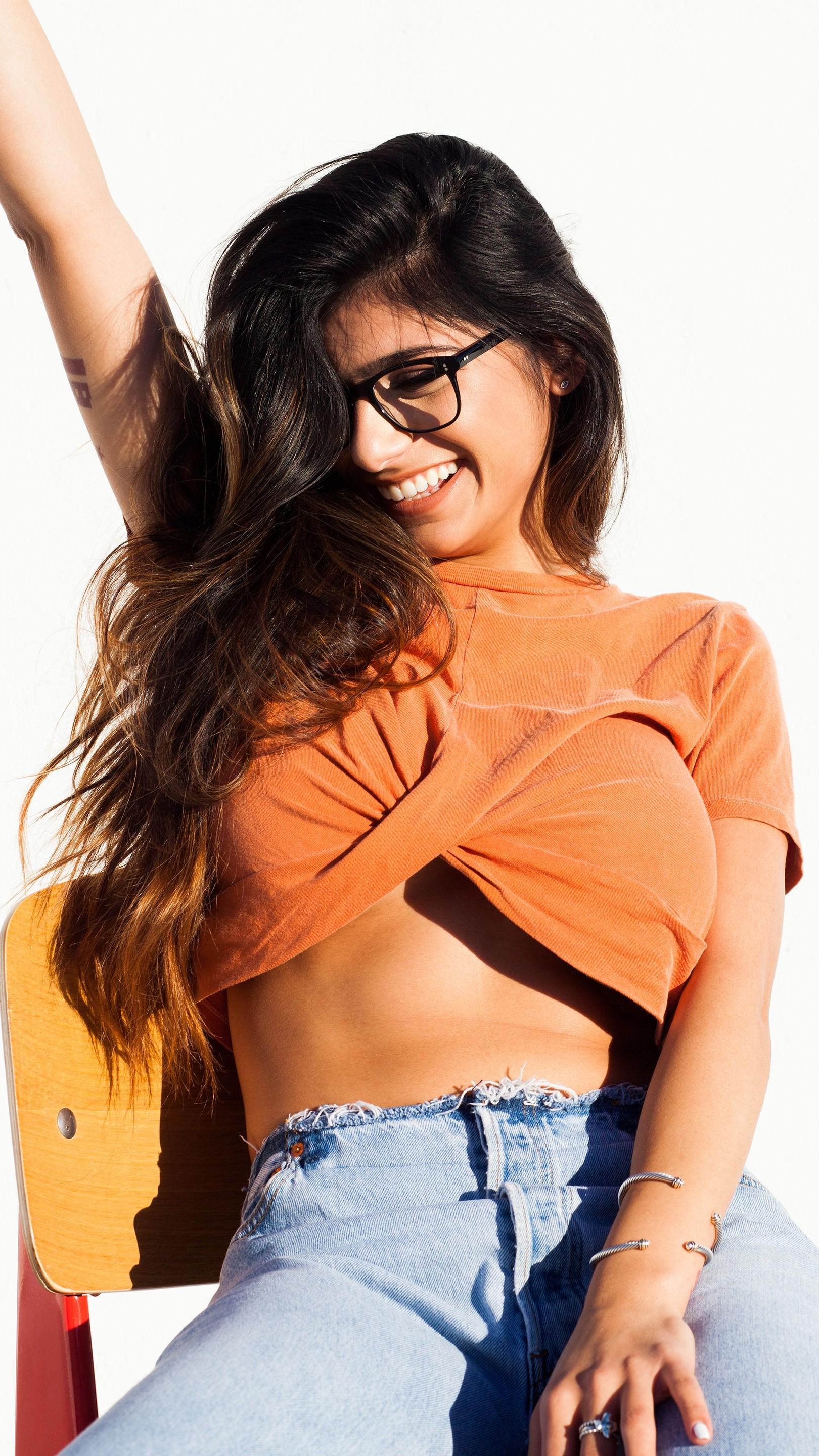 And if someone at the park happens to be visibly supporting a team Khalifa doesn't like? "Yo!" she yells from the Mark Twain Riverboat to a man on shore in a Seahawks cap. "Seahawks suck! Go 'Skins!"
Moments later, she sees a boy named Otis on the riverboat with his mom. Khalifa tells Otis she'd like to give him her shield and sword. "You're going to be a much better knight than me," she tells the boy, smiling after an impromptu knighting ceremony. After the boy's mother thanks her for this random act of kindness, Khalifa checks her phone to read up on the news that Cleveland Browns wide receiver Josh Gordon has admitted to using drugs before games. "Mia is every guy's dream girl," says Brent Kaskel, her representative who's with us at the park. "She knows sports very well and watches on a daily basis. She's extremely witty, and she treats the people in her life so well."
With a Twitter following of two million and a growing track record as one of the internet's loudest sports fans, Khalifa is in the midst of making the jump from porn's lightning in a bottle to the newest female voice in the high-traffic world of sports punditry. Her deal with Complex to cohost Out of Bounds alongside former Washington Wizards star Gilbert Arenas, one of Khalifa's idols, became the first test of whether the saturated, male-dominated world of sports commentary is ready—or even willing—to accept her into the boys' club.
Arenas first got wind of Khalifa in May 2017 when she tweeted at Isaiah Thomas, "I'll let you touch my tiddies if you can reach them." Before the social media boom, Arenas became comfortable with engaging fans through blogging. Nearly eight years after a 2010 gun charge rocked his life, Arenas says he can relate to Khalifa in how some people only want to talk about your past. "That's the frustrating thing: It took me years to get out of that dark place," Arenas says. As Khalifa sums up, "A lot of the reception is that I don't belong in the sports world. I don't think the [sports media industry] loves me back, but I'm okay with that. I don't consider myself a part of the sports media world. I consider myself part of the online sports pundit world, because I have honest opinions and I share them—to a fault."
When he met her a few months ago, Kaskel, a marketing manager at eSports company NRG, immediately knew he wanted to be a part of Khalifa's life, both as a friend and a colleague. "She's going to be the next Kim Kardashian," he says. "I don't think people see Kim as someone who has a sex tape. They think of someone who is gorgeous, and Mia is in that same category.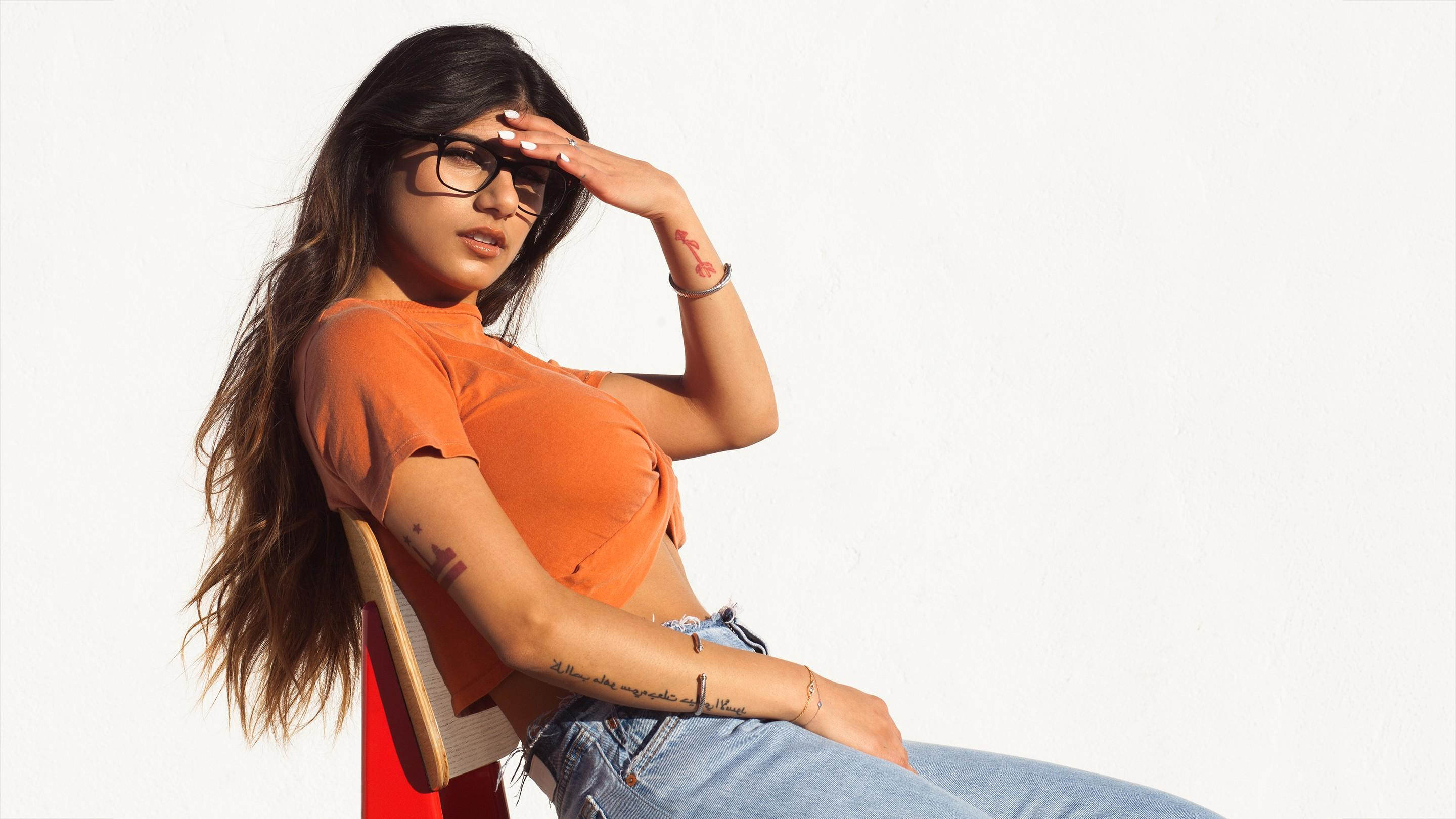 Khalifa's push into sports media has just so happened to coincide with the #MeToo and Time's Up movements, wherein victims of sexual harassment, assault and gender inequality are speaking out against those who've exhibited terrible behavior. While Doris Burke, Jessica Mendoza and Sam Ponder have become some of the most prominent sideline and studio announcers for ESPN's coverage of the NBA, MLB and NFL, respectively, the Worldwide Leader has come under fire for several sexual harassment allegations. And ESPN is not alone. Fox Sports abruptly fired Jamie Horowitz, then head of programming, in July amid an ongoing sexual harassment investigation. Last year, several NFL players turned analysts, as well as a former high-ranking executive, at NFL Network were also accused of sexual harassment.
Khalifa is a victim of harassment as well, most notably in the comments section on YouTube and on Twitter, where trolls mock her attempt to switch careers by making digs at her appearance and past. And yet, when met face to face, most men can't help but ogle her and ask for photo ops wherever she goes—even at Disneyland. Thus sums up the uniqueness of her situation, and broadly, the landscape many women—former porn stars or not—are facing across male-dominated industries. "She's an innocent girl who is just trying to do something different in her life and people try to keep dragging her back to the porn thing," Arenas tells me. "She's trying to figure out how to move forward. And you have to give her a chance to do it on her own."
Certainly, Khalifa's transition from adult film star to culturally accepted entrepreneur is unprecedented territory. Can a social media juggernaut whose opinions are judged based on her past find a place at the table talking sports? It's a road without a clear path, but Khalifa says it's necessary in order to regain control of her life. "Unless do this on my own terms, I'll never be happy," she tells me. "The internet, and these people who think I still do porn, are running my life. But if I can get through ISIS sending me threats, then the 14-year-old boy telling me to stick to sucking dick isn't going to hurt me." Without pause, she continues: "Everyone should get threatened by ISIS once in his or her life."
The outrage it caused in the Arab world ended up being a bit of a 'Streisand effect.' Suddenly, everyone was searching for her. The effort to censor her only made her more ubiquitous.
Waiting in line for the Haunted Mansion with Kaskel and me, Khalifa is approached by another eager fan who asks for a photo, cell phone ready. Once the photo is taken between bites of her churro, he has another question: Can he have a hug? "No, sorry," she says, returning to the more appealing churro. After the guy walks back to his place in line looking defeated, she gives him a consolatory pat on the shoulder. Khalifa has had to evolve and adjust to the person she can—and should—be toward those who approach her. "I don't know where that hand has been," she tells me, laughing off the whole thing.
When Khalifa and her family moved from Lebanon to the United States on January 1, 2001, arriving at Washington Dulles International Airport, it was to escape the unrest and subsequent fallout from the South Lebanon conflict, the 15-year period of warfare between Lebanese Christian militias supported by the Israel Defense Forces and Lebanese Muslim guerillas backed by Hezbollah. "My parents loved America because it was the land that gave them a second chance," she says. Khalifa is reserved on most details about her family and her time in Lebanon. Walking off the plane, Khalifa immediately smelled grapefruit—and then proceeded to throw up everywhere. "I was miserable the entire rest of that week," she says, recalling the humiliation on her mother's face when she cleaned up the mess.
She holds on tightly to the memories of her birthplace, where she was raised "very Catholic" in a "very conservative" home. She attended a French private school in Beirut, where she learned to speak English, and spent her summers in a little town she admits she can't spell today. Every Sunday, her family would get together with friends and neighbors for all-day barbecues. The women cooked large volumes of Lebanese food while the men smoked hookah outside, watching the children run around and play.
In 2001, Khalifa's family settled in Montgomery County, Maryland, north of Washington D.C. The adjustment to American life was difficult for Khalifa, who was bullied often. "I was the darkest and weirdest girl there," she says. After 9/11, the bullying worsened, with kids at school calling her a terrorist. The isolation would continue until sixth grade, about the same time she developed a love for World of Warcraft and became boy-crazy for classmates who were out of her league. In high school, at Massanutten Military Academy, a boarding institute nearly two hours away in Woodstock, Virginia, Khalifa learned to toughen up.
She then went on to major in history at the University of Texas-El Paso, tending bar and modeling on the side. For the most part, her bookings were limited to the kind of biker magazines you find for free at gas stations, though she did land a role as a "briefcase girl" on a local TV game show that hoped to be the Mexican equivalent of Deal or No Deal. She also married her high school sweetheart in 2011, a topic she declines to talk about save for confirming that they separated in 2014 and divorced in 2016.
Through an isolated childhood and relatively boring college life, Khalifa remained drawn to sports for its cut-and-dry rules and accessibility. Her parents weren't into American sports, but their love of soccer brought them to many D.C. United games, one of the sports Khalifa just so happened to hate. Instead, she could be found hollering for Jameis Winston during Florida State football games on Saturdays and for Champ Bailey of the Washington Redskins on Sundays. "I love sports so much because as someone who didn't have friends growing up, sports made me feel like I was a part of something bigger," she says. After graduating early from UTEP in December 2013, she moved to the Miami area. There, while getting lunch one day, a man approached her, as all stories of discovery begin. "He said, 'Hey, I don't mean to be a creep, but if you are ever interested in nude modeling, here's my card,'" Khalifa remembers. A few weeks later, Khalifa appeared on camera nude for the first time.
---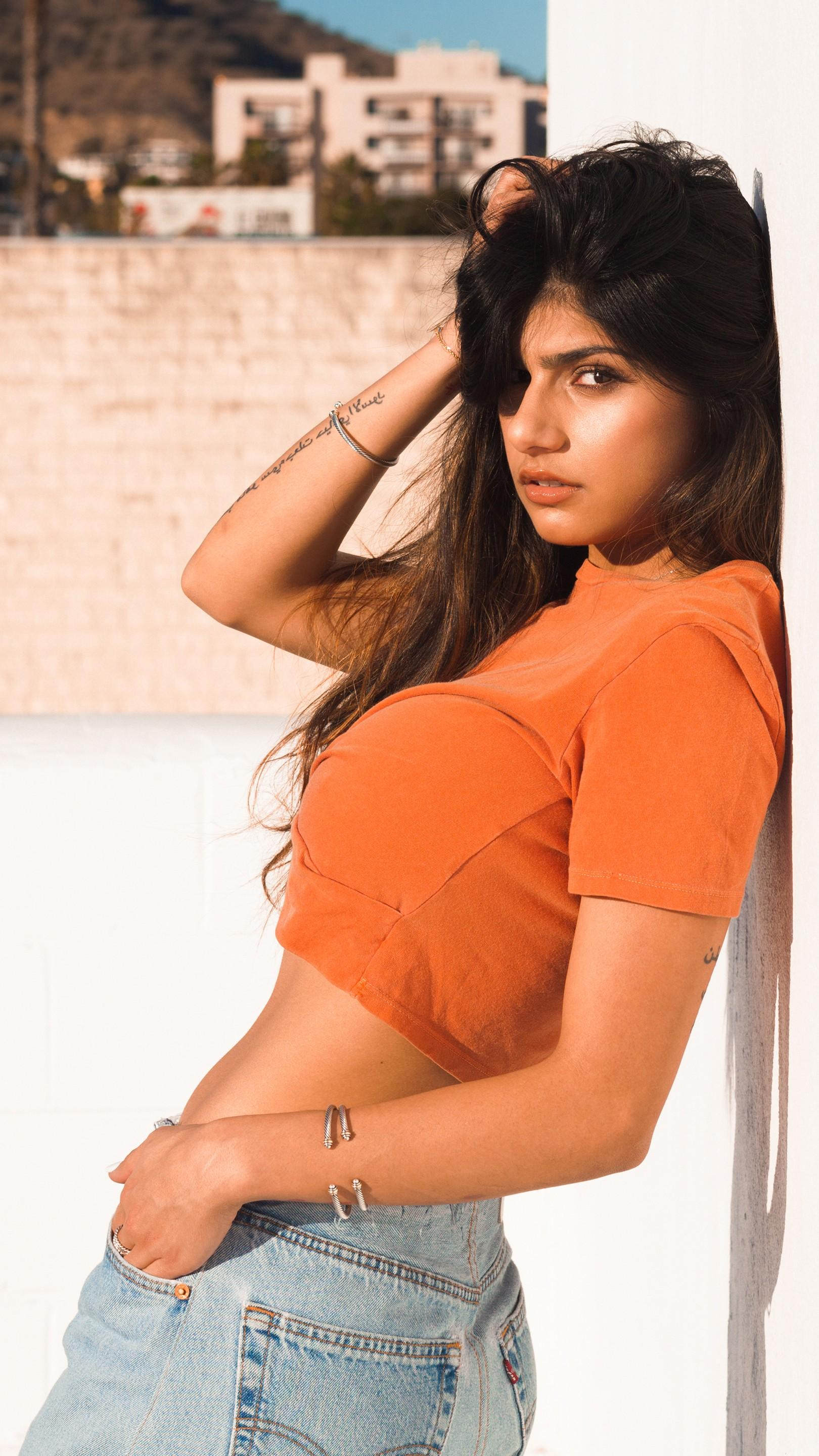 I will never find a guy I deem to be perfect or normal since I'm not perfect—and am nowhere near normal.
It's a little before 7 a.m. in November 2017 in the non-descript Beverly Hills building that houses Complex and Khalifa and Arenas, sitting next to each other on the green room's sofa, are feverishly jotting talking points on notecards. While Arenas focuses his research on the respective struggles of the Cleveland Cavaliers and New York Giants, Khalifa, wearing a Los Angeles Kings jersey and the Disney tiara she bought the day before, is working on something else: defending herself. TerezOwens.com, the sports version of Perez Hilton's namesake site, is alleging that Khalifa has been sliding into Tiger Woods' direct messages, a reference to how she's supposedly communicated with professional athletes like Denver Broncos' Chad Kelly, Chicago Cubs' Willson Contreras and Buffalo Bills' Duke Williams in the past. Joined in the room by anchor Pierce Simpson and sports editor Adam Caparell, Khalifa, whose laptop is covered in stickers of Air Jordan, Batman, Harley Quinn and the state of Texas, shakes her head, denying the gossip.
In mid-December, about a month after my first visit to Complex's Beverly Hills studio, I get word that Khalifa won't be coming back for season two of Out of Bounds. Khalifa addressed this with nothing more than a cryptic tweet wherein she says good-bye to California, where the show was taped. Later, when meeting her at 24 Diner in Austin, Texas (where she currently lives) during South by Southwest, she tells me, "The show was a learning experience, but I think its biggest issue was the format and that it launched too soon. And then it got off to an uphill battle with the 'dislike squad'—an online legion of goons that disliked all our videos without watching. But since I've left the show, I've experienced more self-growth that I've had in the last three years. Los Angeles was life-changing for me; it scared me. I was depressed. I was crying everyday. It made me realize what my priorities, and that I'm not willing to sacrifice my quality of life for some opportunities. I'm a little disappointed I gave up, but I am rebuilding. I'm happier."
"But this guy seems so convinced—maybe I did?" she giggles. Only in its fourth week of production, Out of Bounds has yet to find its place in the saturated market that is opinion-driven sports debate, a landscape largely owned by money-rich cable networks. Between the show's debut on October 16, 2017, and January 2, 2018, Out of Bounds clocked only 1.5 million views on YouTube, an average of less than 38,000 views per episode, according to publically available analytics compiled by Playboy. The 40 episodes that aired in that time have nearly twice as many dislikes as it has likes, and the comments regularly target Khalifa. "Funny how Mia thinks she's shit but she's always gonna be a porn star lol"; "Mia randomly picking up this profession is bizarre…"; and "This show is not a credible sports show because have a porn star on it…" read just some of the comments.
"I haven't read them because I know what they all say. It makes me feel guilty for bringing that kind of attention to projects I'm on," she tells me at Complex's office. "I'm embarrassed about it." Lewd criticism aside, Khalifa dedicates herself to making this new career work, committing to a schedule of 3:30 a.m.-wake-up calls, 6 a.m.-call times and hours in front of the camera. At the top of today's show, Simpson makes reference to the report involving his cohost and Tiger Woods. It isn't the first time the crew has used the show to address news involving Khalifa. The show's pilot episode, which had Khalifa addressing an incident involving her at a Los Angeles Dodgers playoff game, generated more than 200,000 views and remains their most-viewed episode to date. "I can take this over," she tells Simpson. "I got this."Pointing at the camera with a half-smile, Khalifa makes her case.
"First of all, I'm more of a Rory McIlroy kind of girl. Second of all, I'm not a struggling waitress, so I'm not going to go after Tiger Woods. Third of all, he's got less than 50,000 followers. Don't come at me if you have less than 10 percent of my followers. Please don't." She confuses the site's name with Perez Hilton for effect: "Sit down, Terez Hilton!"
"We realized there was a lot more to her than what we were covering," says Cornell Brown, the general manager of video at Complex. "You could see where her career was starting to go."
---
The hijab video changed everything.By November 2014, only a month into her adult film career, college boys were already recognizing Khalifa at Florida State football games. They had obviously seen the video she made with Bang Bros, a popular porn production company, in which she wears a hijab during a threesome. One of the producers of that film is a man named Steve, who declines to give me his last name for personal reasons.
Having worked with Khalifa on almost her entire filmography, Steve, who worked with Bang Bros for a decade, says the company lucked out in signing her, describing her work ethic as "a breath of fresh air." According to him, the Bang Bros team pitched Khalifa the hijab idea to play up the idea that she was "the pretty Persian girl gone bad."
"We weren't trying to exploit [her ethnicity]. We wanted to embrace it," he says. "No one could have anticipated the negativity surrounding it." As the video gained traction worldwide, doing numbers beyond Bang Bros' imagination, religious scholars and writers panned it as a publicity stunt. "The outrage it caused in the Arab world ended up being a bit of a 'Streisand effect'," says Alex Hawkins, vice president of marketing for xHamster. "Suddenly, everyone was searching for her." Hawkins says there are still on average 75,000 monthly searches for Khalifa on xHamster today. "The effort to censor her only made her more ubiquitous."
For Khalifa, the attention and instant fame was unfortunate. Death threats piled up in her inbox and on Twitter. So did the media attention, with major national outlets like CNN, Newsweek and Salon reporting on the scenes. Vice even published an article called "Behind the Rise of Hijab Porn," as if Khalifa reflected a greater cultural shift in the sexual appetites of porn-viewers. "Once I gained popularity, I was like, 'Oh my God! Oh my God! Oh my God!'" she says, articulating the fear. "It was terrifying." Her parents found out about her porn career almost instantaneously and publicly disowned her, saying in a statement they were "paying the price of living away from our homeland."
Over the course of three months, Khalifa recalls shooting 21 adult films—nine solo and 12 with partners. In January 2015, on the heels of her viral success, she signed a long-term deal with Bang Bros' parent company that required her to film multiple videos a month. The deal lasted only two weeks. "I remember when she came in with a letter of resignation," Steve recalls. "I said, 'Why? You're the biggest star in the world.' She said, 'I don't want to be.' I can't say that I've ever had a porn star give me a letter of resignation."
For the next year and a half, Khalifa's life became burdened with heartache. Working as a paralegal and bookkeeper in Miami, she received an uncomfortable amount of looks from colleagues who knew exactly who she was. Even after going dark on social media, cutting her hair and dying it blonde, she would still get recognized. As a result, it made dating or finding any real connection almost impossible. "I will never find a guy I deem to be perfect or normal since I'm not perfect—and am nowhere near normal," she says. "I could post a picture of my dogs and people will comment, 'Pls show bob and vegine.'"
While Khalifa openly jokes about having been threatened by ISIS, she's also revealing for the first time that the global media attention following the incident is what convinced her, at least partially, to leave porn. "It was an eye-opener for me," she says. "What the fuck am I doing? This is not me. I don't want any of this, whether it's positive or negative—but all of it was negative. I didn't get too much into it about how my friends and family and relationships were suffering." Her manager Jeff Solomon tells me, "The way I've heard her say it was that it wasn't the threat of ISIS but the attention of CNN and everyone else. Them threatening to put her on front pages everywhere."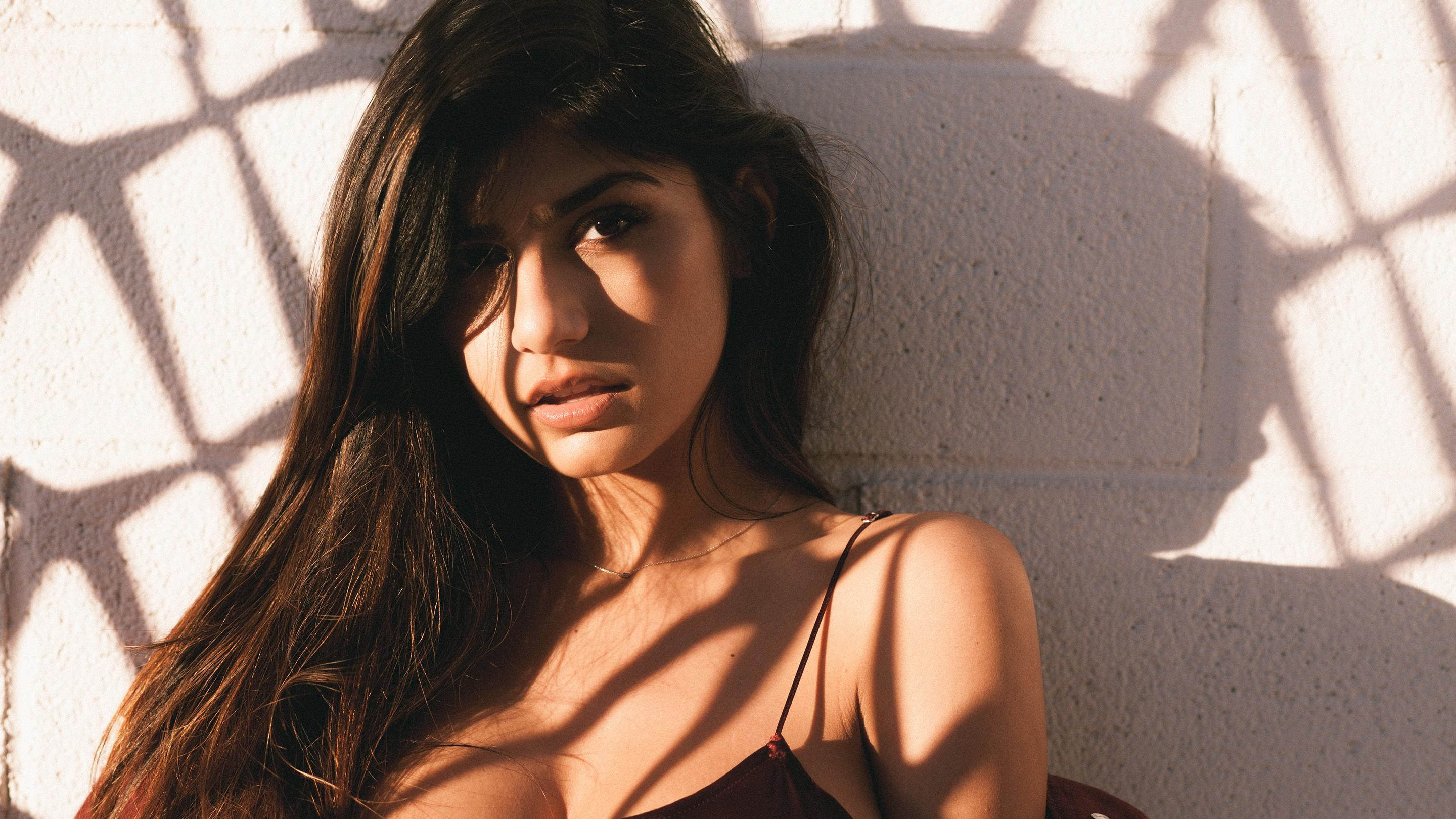 Even so, on its face, her exit from Out of Bounds exemplifies how difficult her career transition may be, especially for a woman trying to break into a man's world. Her efforts to rebrand herself are further compromised by the fact that she doesn't even own the URL attached to her name. "[That's] one of the hardest parts about moving on from that part of my life," she says. Her focus since leaving Out of Bounds has included developing a new sports show with an Austin-based production company, calling a few games on Twitch for NBA G League [the association's minor league] and maintaining her self-managed endeavors. On Patreon, she gives paying fans access to higher-end photo shoots, merchandise and Q&A sessions. On Twitch and YouTube, she shares glimpses into her everyday life, including her passion for cooking. (In October, Khalifa donated her Twitch earning to relief efforts following Hurricane Irma.) And on FindRow, followers can see more provocative selfies of Khalifa. "The growth rate on my Patreon has been incredible," she says. "Whenever I feel like cooking, I'll just hop on Twitch. By the way, I didn't cook once in Los Angeles."
All of this is to say that there is indeed a market for Mia Khalifa. "I'm young and still just starting out," she says. "Everything I'm doing or have done has been a key factor in realizing my purpose in life, and I'm excited for my next failure. Porn was a mistake, but I've learned more from the failures in my life than the successes. I welcome failure. It makes me stronger, wiser. I get comments, like, 'Stick to having sex, you don't know anything about sports.' I know that I know my shit. I also know I don't know a lot of things, and that's fine. But I have my opinion and I stick to it, and that's what pisses people off. I am who I am because of all the times I've had doors shut in my face. I hope I can make it, even with the odds stacked against me."
At the diner, the restaurant manager comps our bill, even though the restaurant is packed with troves of SXSW's self-anointed influencers and social media personalities. Sitting in her oversize Alexander Ovechkin jersey—a nod to the hockey player having scored his 600th goal—she jokingly asks the waitress for a martini after reading that Washington Redskins quarterback Kirk Cousins is signing with the Minnesota Vikings. She's already upset at the prospect of Alex Smith of being named starting quarterback for her favorite team. It's this nonchalance in sharing her positions that confirms Khalifa indeed probably knows her shit better than the best of them. She remains modest nonetheless. "I don't think I am breaking any molds with what I am doing," she says. "I'm not any type of ceiling breaker. I'm just having much more fun with my career in Austin than in Los Angeles. In fact, the best week of my life there was when you and I went to Disneyland."
In hindsight, such was visible. Inside the Finding Nemo Submarine Voyage, Khalifa turns on her light-up Mickey Mouse wand and bubbles begin to float around the ride, popping on people's heads, much to her delight. It isn't until the ride goes underwater that she discovers a new fear: submarines. But somewhere between our submergence into darkness and an underwater digital tidal wave, Khalifa loses herself. Looking through a porthole at Nemo and Dory causing mischief, a glee comes over Khalifa, the flickering, rotating colors from the wand bouncing off her face. It's a rare, quiet moment of peace.
Leaving the park, another woman sees if she can get a photo with her. Before the photo, the woman makes sure to unbutton the top of her red and black flannel in what has to qualify as the most revealing photo taken in front of the Sleeping Beauty castle that day. The fan interaction is also the least creepy of the day. None of it is lost on the woman from Lebanon walking through Main Street, U.S.A., who just wants to talk about sports. "We're at the most magical place in the world with the world's most wholesome internet celebrity," Khalifa says. "Where else are you supposed to meet Mia Khalifa?"